Shampoo, Blow Dry, and Hot Iron Style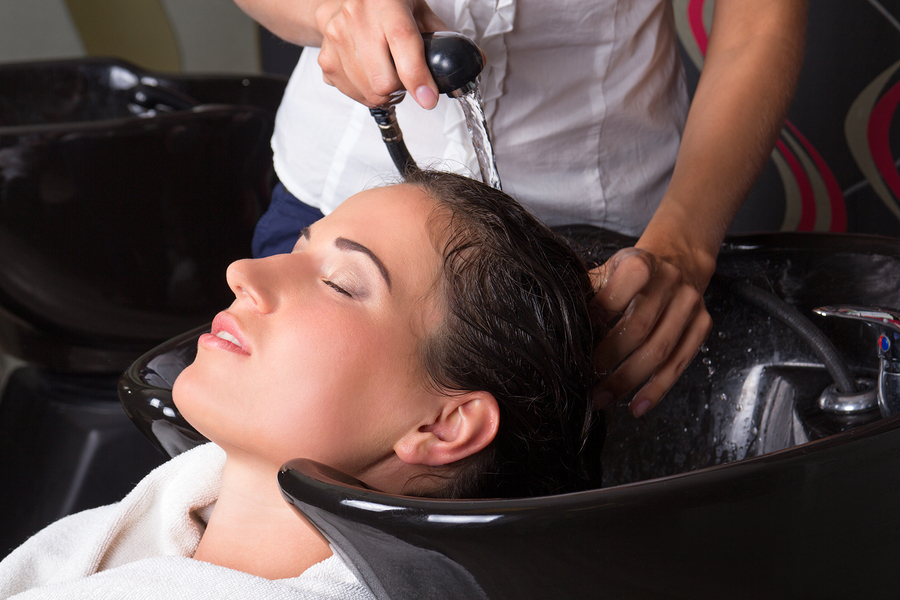 A hot iron can be a flat iron, curling iron or marcel irons. The heat from the iron causes the bonds in the hair to bend and become malleable, for example: Curling irons can change the bonds of the hair to go from curly to straight, Marcel Irons can give the hair tight bouncy curls or flat irons that use this technology to iron any curl or wave in the hair flat. The hot iron changes the shape of the hair strands temporarily.
Having a professional hot iron style can change the look of your hair temporarily yet dramatically, without having to change the cut or color of the hair. For example, using a high quality flat iron as well as professional products, a stylist can use the iron through each strand of your hair to not only straighten or flatten the hair but also add body and shine in a fraction of the time it would take to do it yourself. They can also reach parts of your hair that may be missed by the lack of reach or mobility. A hot iron style can significantly change the appearance of your hairstyle and it can be a way to emphasize the natural style and dimensions of your current haircut by adding a smooth, smooth and updated appearance.
A professional curling iron can change your straight or already wavy, curly hair to soft curls to a shape or style that best suits your personal style and hair needs. A marcel iron can be used to add tight bouncy curls, completely changing your appearance from straight hair or adding tightening your loose curls into beautiful ringlets that can add body and volume to any hairstyle.
Situations That Call for a Professional Hair Stylist
There are several reasons why a professional hot iron styling appointment may be required. Perhaps you don't want a new hair cut or color but do want to find a different style that better suits you, you may have a special event that requires an ornate or specialized style that requires a professional touch. Another common reason is can be going from work to an event or date which requires a refreshed and more streamlined appearance. Going from straight hair to curly hair or curly hair to straight hair is one way to dramatically change your appearance while complimenting any outfit, style or event.
Any special event, such as a wedding or a party, calls for an extraordinary hairstyle to frame your face and help you have your best appearance. Your professional stylist can work with you to find the best style for you, your special wardrobe or hair accessories and to match the formal setting or theme of the event itself.
Using a Professional Stylist for Your Hair Style
One of the advantages of having your hair professionally cut is having an experienced stylist to consult with you when choosing your style. It's important to find a style that compliments your face, hair texture, length and cut. A professional stylist is trained, experienced and keeps updated with the latest hairstyles and techniques. They can work with you to create a style that is helps you look your very best, not matter what the purpose for your style is.
Also, a professional hair stylist also can offer you a style that you may not be able to accomplish yourself. Many hot iron styles require access to your entire head and areas you can't reach by yourself. They also have access to the best equipment, top hair products and unsurpassed proficiency in hair styling.
A professional hot iron style will also be preceded by a luxurious scalp & hand massage to relax and pamper you as well as a invigorating shampoo and deluxe conditioning treatment. A blow dry and your customized styling service will follow. This ensures you leave in a state of tranquility, looking your very best.
Why Use a Professional Stylist
For a new fresh new look, the best hair stylists in the area are ready to help you attain the hot iron style you want. Call Attitude Salon at (540) 946-6888 to schedule your consultation today.
Tags: Blow Dry, Hot Iron Style, Shampoo