Full Foil Highlights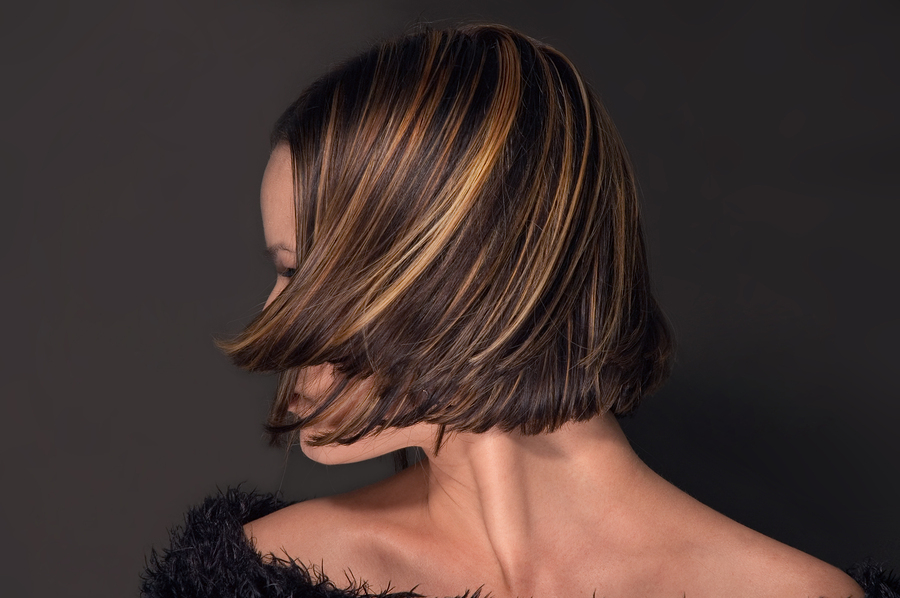 Hair highlighting is the targeted lightening of systematic strands to create depth and dimension in your hair's color .The modern methods for highlighting, using hair bleaches and toning products, have been in use since the early 1960's and chemical, hair color lighteners were developed in the early 1900s. However, that is not when highlighting was originally invented.
Actually, different highlighting methods have been functioning for many centuries, as the desire for lighter hair has been present in various ages and cultures during the course of history. For example, in the Renaissance Era (1400 to 1600 A.D) it was common for women to use lemons or mixtures containing black sulfur, alum and honey and apply it to the hair. They would then spread their hair over a wide-brimmed, cap-less hat and sit in the sun to lighten the hair. This process would take several hours.
Earlier in history, in ancient Greece, women used ointments made of olive oil, citrus, pollen and gold flakes on their hair and sat in the sun for long periods to lighten the natural color of the hair. They would also use the sun as a catalyst for the lighting process, by sitting in the sun for hours after applying the mixtures.
Although the most modern methods and formula used for creating highlights have been around for more than four decades, the original "modern" highlight processes of the 1960s used plastic caps through which locks of hair were pulled using a hooked needle and isolated for bleaching. Later in the 1980s, the current foiling method was developed, where slices of hair were painted with bleaching solutions and folded up into strips of foil.
Highlighting Your Hair
Hair highlighting generally refers to the application of a lighter color to sections of hair instead of just one overall color to the entire head of hair. This provides a contrast and added dimension between these sections and the rest of the hair on your head using foils to separate colored, bleached and non-treated strands of hair. In highlighting hair, a bleach and peroxide mixture can be used to remove existing color from the hair, or hair color dyes can be used to lighten and deposit color to the hair.
The Right Highlights For You
When choosing the right highlight color for you it is important to be mindful of your skin coloring to determine what colors will look best on you. For example, if you have a fair or light complexion, and your hair is natural shade of dark blonde or light brown, then the best highlights for you are generally platinum or honey colored as they will give your skin the appearance of a subtle tan, as well as accentuate your eye color.
If you have medium skin tone, however, and lighter hair or eyes then golden blonde or light brown highlights can be a great option to compliment your natural tons. If you have darker hair shades and dark brown or hazel eyes then light brown or caramel highlights may flatter you the best. Although blonde highlights can complement medium skin tones, it is important to note that they may not be the most natural look.
The Importance of Using a Professional Colorist
The application of highlights to hair requires skill and experience to achieve the desired effect. An amateur, using non-professional products can make mistakes such as selecting hair sections which are too thick, too thin or poorly spaced on the head which is an unflattering and unnatural look that is not easily remedied with permanent bleaching products. When you attempt to use home hair highlighting kits, most amateurs do not have the skills, training or experience to avoid mistakes that can range from unsightly and unpredictable coloring to over bleaching and chemical "haircuts" or loss of hair.
One of the advantages of having your hair professionally colored is having an experienced colorist to consult with when choosing your color. During your consultation they will be able to help you choose a color that accomplishes your style desires while making sure you have a new color that matches your lifestyle, comfort level and match your skin tone. They will then create with you custom full hair or full foil highlights using the best products to give you a satisfying new look from roots to ends through most of your hair. Using foils, they can also use different tones as well as low-lights to create a natural new look.
The professional hair color service also includes a luxurious scalp & hand massage to relax and pamper you as well as a soothing shampoo, conditioning treatment followed by a blow dry and styling to showcase your new hair color. This ensures you leave in a state of tranquility, looking your best.
Use the Best
For a new fresh new look, the best hair stylists in the Waynesboro area are ready to help you attain the color you want. Call Attitude Salon at (540) 946-6888 to schedule your consultation today.
Tags: Full Foil Highlights